1 of Us
1 of Us provides direct patient support to women fighting gynecological cancers. We work to alleviate the burdens of putting groceries on the table, gas in the car and paying rent while in the throes of cancer treatment.
Since 2011, 1 of Us has touched the lives of over 1000 patients with our financial support. And as we expand beyond breast cancer and into more hospitals in North Carolina, we are poised to make an even bigger impact.
The financial assistance 1 of Us provides makes a direct impact on the lives of families. From food to transportation to utilities, 1 of Us helps lessen the interruptions in the lives of a patient's family.
Chris Moore – Fundraising Initiative
Join Chris Moore's 1 of Us fundraising initiative. Dollars raised will make a direct impact on the lives of women undergoing cancer treatment. 1 of Us gives direct, non-medical financial assistance that allows patients to focus on treatment without worrying about the day-to-day expenses. When basic expenses are covered, patients do not have to worry about delaying or discontinuing their life-saving treatment. Thank you for your support.
– 1 of Us
Attend the 2018 Pink Tie Affair Gala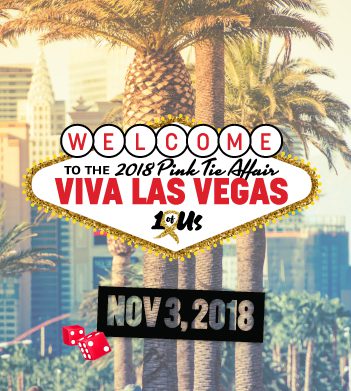 First National Bank is proud to present the 7th Annual Pink Tie Affair, benefiting 1ofUs, on November 3, 2018 at Raleigh Marriott City Center. We're going to take a gamble here but the 7th Annual Pink Tie Affair is going to be the best yet! We're upping the ante by going old-school casino night style where the celebrity glamour of Vegas meets everyone's favorite games of chance.
Gala guests will be provided with initial chips for the evening that they will use to play the games. Guests may purchase additional chips to keep rolling the dice and continue the fun. Chips will be turned in at the end of play for chances to win fantastic raffle prizes. While players rotate the tables they will also enjoy classic Vegas entertainment, cocktails and a buffet dinner.
It wouldn't be A Pink Tie Affair without the opportunity to win some of our signature Silent Auction packages or our top-of-the-line Live Auction trips and experiences. The proceeds will assist women undergoing gynecological cancer treatments that 1 of Us serves -- with direct, non-medical financial assistance. A Pink Tie Affair is the largest fundraiser of the year for 1 of Us. Since its founding in 2010, 1 of Us has assisted more than 1,400 patients with things like gasoline, groceries, housing and utility costs, transportation to and from treatments centers and durable medical equipment.